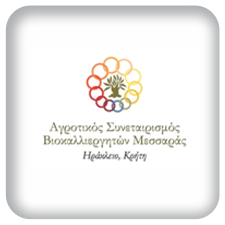 In an era where corporations dominate all facets of business including government, global energy, agriculture and global food supply, ASBM serves small farmers and rural community health by combining two alternative business models—the family farm and the cooperative. Our cooperative was founded to nurture local communities by keeping farmers on the land, farming. We understood from the beginning that we would need to pool our product in a cooperative fashion to accomplish that goal.
The central mission of our cooperative is to support rural communities of Messara by protecting the health of the family farm—working toward both economic and environmental sustainability. Our stable, self-determined farmer pay prices and our love of the land are the best assurance that our co-op members will be able to continue the tradition of organic farming into the next generation.
Farmer members establish equity when they join the cooperative. From the membership, a national Board of Directors is elected. Members' opinions are carried to the Board through regional executive committees. They also have the opportunity to serve on regional committees and participate in cooperative governance and marketing. Also, members receive numerous benefits including support in production, certification, farm planning, feed sourcing, veterinary consultation and more.
ASBM began with 44 farmers who shared a love of the land and a belief that a new, sustainable approach to agriculture was needed if family farms and rural communities were to survive. With more and more family farms threatened with extinction, these farmers set out to create a solution.
Organic products
Olive oil
Vegetables
Wine - Spirits