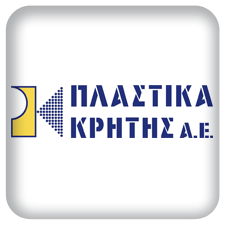 PLASTIKAKRITIS was established in 1970. It is one of the largest Greek plastics manufacturers and one of the leading European producers of agricultural films and masterbatches. It has a strong international orientation with affiliate companies in France, Romania, Poland, Russia, Turkey and China and exports to more than 60 countries around the world. It has been listed in the Athens Stock Exchange since May 1999.
The company specializes in the production of:
KRITIFIL® multilayer plastic films for agricultural applications, greenhouses, low-tunnels, mulching, soil-disinfection, energy-screening, silage films, silage bags, farm and animal buildings
KRITILEN® masterbatches& compounds, for variety of processes and applications, including agricultural & packaging films, bags, pipes, fittings, nets, tapes, fibers, cables, blow-moulding, injection-moulding, roto-moulding, thermoforming etc.
KRITIFLEX® geomembranes, for landfill lining, landfill capping, water reservoirs, irrigation canals
KRITISOL® polyethylene pipes, for irrigation and water supply in agriculture, potable water supply, cable protection in telecommunications, natural gas distribution
KRITISAN® recycled plastics, with a recycling unit with a capacity of 4,000 MT/year