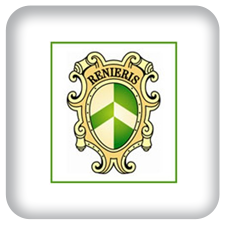 From 1897 the Renieris company, located in Foiniki village (Lakonia prefecture), one of the most ancient settlements in Greece, is producing and packaging excellent quality olive oil and olives.
Already since 850 B.C., the Phoenicians had set up a commercial station in order to take advantage of the high quality laver shells that, according to Pavsanias, existed only at the shore of Lakonia. Approximately in the 5th century B.C., at the north area of Foinikio, as the ancient name of our village was, temples were built dedicated to Apollo Hyperteleato, including various other shrines for Asclepius, where, in accordance to the found inscriptions, the main shrine of the federation of Eleftherolakones was located. During the entire year, pilgrims would flock from every city of the Laconic federation.
This religious importance of the region, in combination with the exploitation of the olive trees and olive oil production, elevated Foinikio to a significant commercial center.
Today, Renieris family of Foiniki proudly produces an excellent range of olive oil and olive products, utilizing the crops of the whole area at its state of the art olive oil press and bottling facilities.
Organic products
Olive oil
Other food products