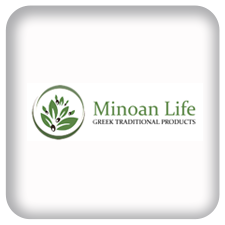 Minoan Life is established in Heraklion Crete. It operates in the traditional products market, offering high quality Greek products, both in the domestic and tourist market, through its wide sales network.
The main business activity of Minoan Life revolves around offering a complete line of natural face and body care cosmetics, based on olive oil and Greek natural herbs, named "Olive Beauty MediCare".  The company's quality policy ensures collaborations with state-of-the-art research centers. As a consequence, 30 different formulas of thoroughly selected herb and other raw material combinations have been already developed exclusively for Minoan Life. All product folders have been submitted to the European Union and the Greek National Medicine Association.
Furthermore, in collaboration with the Thrapsanos Agricultural Cooperative and the Agarathos Monastery, the company standardizes and distributes extra virgin Cretan olive oil, Greek honey from local producers, as well as a variety of 35 different flavors of herbs and spices. All these products share the logo of Minoan Life, featuring modern design, thus strengthening the corporate identity.
Organic products
Herbs - Spices
Olive oil
Wine - Spirits