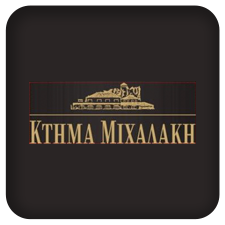 In the heart of Crete, on the hilltops surrounded by nature where history unfolds by the moist and refreshing winds of the Aegean, you will find the vineyards and the Michalakis winery. Here, in one end of the valley where the wine-press of Vathypetro stands untouched by time since 2500 BC while nature takes care of our vineyards in the other end.
On the slopes of the valley where the history of wine spans centuries, in an altitude of 550 meters lies a unified hilly area of 430 stremmata (decares) that used to be a terroir (group of vineyards) from Megalo Metoxi of the St. George Epanosifi Monastery. This is now the Michallakis estate and you will have to travel a distance of 32 km. from Heraklion to visit us.
The «Michalakis Estate» is a precious gem of Cretan winery, which other than the production of high quality wines is required to link the cultural heritage of Cretan nutrition with tourism while at the same time it openly invites all new consumers of Cretan wine.