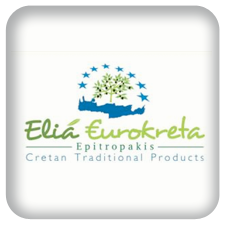 Elia Eurokreta – Epitropakis Bros
was establisked in 2011 in Kalyvia, Heraklion, Crete.
Address: Elia – Eurokreta, Epitropakis Bros, 3, I. Zacharaki str., 71307 Heraklion, Crete.
Phone: 00302810280290 – 00491703454330
Email elia-eurokreta@in.gr and elia-knossos@t-online.de.
The company is a member of the Heraklion Chamber of Commerce, the Exporters' Association of Crete and the Cretan olive Oil Network.
Its purpose is:
Production, standardization, marketing and export of extra virgin olive oil
Promotion of Cretan agricultural products and Cretan diet.
The company's brands are:
1) ARIADNE Cretan, extra virgin olive oil packed 100ml, 250ml, 500ml, 750ml – (1L, 3L PDO Viannou) 5L, 17L.
2) OINOSTAFYLOS Cretan wine White dry – red dry, from Cretan varieties 750ml.
3) PASIPHAE Cretan retsina 500ml.
4) ASTEROUSIA Cretan honey 450gr.
5) INNA Cretan vine leafs in partial vacuum 1kg.
6) INATOS Cretan balsamic vinegar with honey – oximeel – 250ml
7) WRASTARI Cretan herbs Diktamos 20gr
8) Greek Oregano 800gr
It offers the quality of its products, implements a combination of innovation and tradition with respect to the environment. Applies market research methods, modern marketing. It seeks and exports products to Germany and other eurozone countries.
Organic products
Herbs - Spices
Olive oil
Wine - Spirits
Other food products
Honey - nutbars