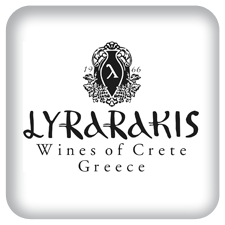 Undoubtedly there is no Cretan family which, in the course of time, has not been directly involved in the production of wine. For the inhabitants of the island this product has been, and will remain, the most beloved of all goods, which the Cretan soil bountifully offers us.
The Lyrarakis company was created in 1966 and started bottling wines in the nineties. Today, the company is managed by the second generation. The family vineyard comprises of 14 hectares situated on an average altitude of 550 meters.
The family and technical team puts a lot of effort into experimenting with smaller batches of other native varieties, reviving rare Cretan varieties and hoping to soon be able to offer you new exciting wines. The company is recognized as the leading quality producer on the island, focusing on the use of native varieties – some blends also use foreign varieties. Lyrarakis wines have won numerous international awards and are continuously expanding exports to most of the European countries and abroad (USA & CANADA).
The winery is located in the Alagni community and the new bottling facility was completed in 2004. At the visitable cellar, oak barrels are stored and bottle aging takes place while visitors and events are welcomed on a regular basis with a view to the family vineyards and the Lassithi mountains.
Organic products
Wine - Spirits