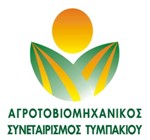 In the region of Messara prevails ideal climatic and land conditions to grow horticultural. In thisfertile place 1500 producers produce with olive oil, fruits and vegetables, basic elements of Cretan diet that constitute model of diet in all over the world.
The agro-industrial Cooperative of Timpaki has main object of its activity the concentration and distribution of products that its members produce, in the markets of Greece and abroad.
Educated scientific personnel watches and supports the producers – members. The total of products that are produced are certified at Globalgap.
The modern building installations have modern instruments of screening, standardisation and packing. They are certified at ISO 22000 (HACCP), ISO 9001 and I.F.S.
All of the above ensure that the products with of the cooperation reach to the consumer in most excellent condition.
Organic products
Olive oil
Vegetables
Fruit